Good ol' Sydney! (Aug/Sep 2006): Breakfasts (Part 2) - Bills
Darn it! I have just finished typing a long post. When I clicked on "Publish Post", the darn system hang. Don't you just feel like 'pulling your hair out' when this happened?
Anyway, back to square one. I am too lazy to recall back what I typed and to re-type everything so this post would be a summarized version.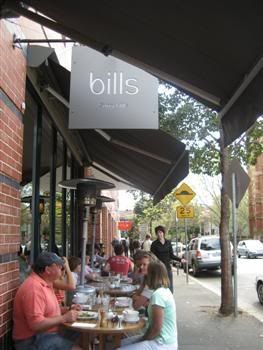 Breakfast at
bills
, which has become almost an institution for breakfast dining in Sydney. Even before reaching Sydney, I already planned to try their famed
breakfast menu
there. So although my 1st attempt failed (
Swee
and I went during
dinner time
expecting to have their "all-day" breakfast menu only to discover it wasn't "all-day" after all but till 4p.m. only), we were back again at the
Surry Hills
outlet a few days later. And although having been advised that we have to wait about 30 minutes for a table (small place and long waiting list), we bravely beared with our growling stomachs for the next half and hour, standing outside on the pavement on a warm, sunny morning (felt like summer).
By the time we sat down, we were pretty sure what we wanted. So what did we order? Whatever they are famous for of course....
Swee
ordered:
Sweet Corn Fritters with roast tomato, spinach and bacon
.
Interesting dish. Somehow, it reminds me of our local 'vadai'. But the sweet corn provided a nice and juicy crunch. I love the roast tomato too!
I ordered:
Ricotta Hotcakes with Honeycomb Butter and Banana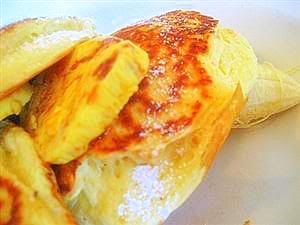 Similar to pancakes but made with ricotta cheese. Still tastes like the usual pancakes to me but of course, they were good. Fluffy and nice. What made the dish more interesting was the honeycomb butter - yum! It looks dry in the photo because when it came, the waitress forgot to bring the maple syrup until I asked.
Extra order: Creamy scrambled eggs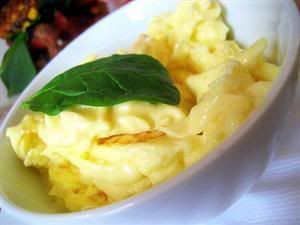 This dish was said to be 'the' dish that propelled bills to greatness. It was creamy and smooth for a 'generous' amount of cream went into this dish (which I tried not to think about while consuming it). However, it was slightly less than warm when it arrived at our table. In my opinion, all eggs should be served warm unless if it is hard-boiled and used in salads.
My morning must-have: A good strong cup of coffee. Love at first sip!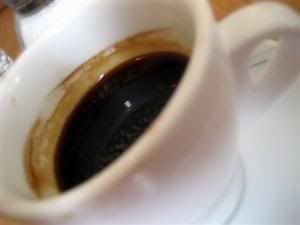 Overall, breakfast at
bills
was good, as expected but not 'mind-blowing' fantastic. Go if you want to try something new, go if you want to check out what the hype was all about, go if you have RM100 to spare for breakfast (
yep, our total bill came to more than RM100 - hehe
).