Good ol' Sydney! (Aug/Sep 2006): Dining @ bills
It was supposed to be
Swee
and I first attempt at trying their
breakfast
menu. I thought I read somewhere that their famous breakfast menu was served all-day. So we went during dinner time only to be told that their breakfast menu is served till 4p.m. daily. Ceh! And I thought we were being clever to go at dinner time to avoid the morning crowd.
So we looked at their dinner menu and decided to share some dishes.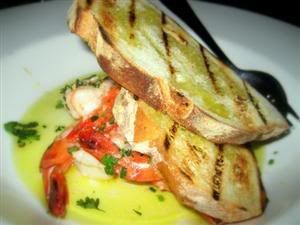 Appetizer: Grilled Garlic Prawns in Lemon Herb Sauce served with Toasts.
Fresh and juicy prawns. I like this dish.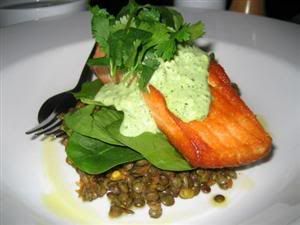 Main: Crispy Salmon served on Lentils
Rather good. It went along well with the greenish sauce. Couldn't remember what it was though.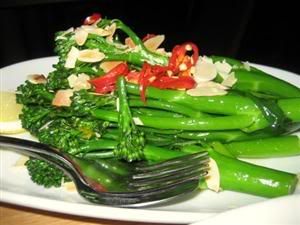 Side: Broccolini with toasted Almonds
First time tasting broccolini which was a hybrid between Chinese Kale and Broccoli. Cool. Yum..., I love this! The broccolini was sweet and crunchy. My favourite dish of the night.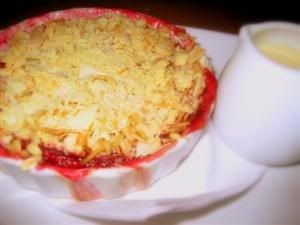 Dessert: Berries and Rhubarb Crumble
My first time tasting rhubarb. Not quite what I expected. Slightly sourish, it was quite ok - I supposed.
Despite the fact that only a few tables were occupied, service wasn't attentive enough. Swee and I had to wave our hands a few times before we were finally noticed whenever we needed anything. But I had good company so that didn't bother me much.