Good ol' Sydney! (Aug/Sep 2006): Breakfasts (Part 1)
Breakfast at
Cafe Nine On Ultimo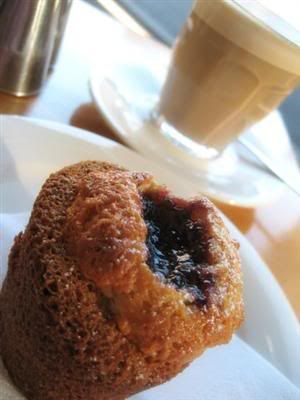 Fruit Jam Friand with "Skinny Latte. Love them both! Absolutely addictive!
Oh, Australia. Land of good coffee. For a coffee lover like me, I have reached "caffeine heaven"-haha.
Seriously, the coffee served in Sydney makes our "
non-local
" coffee pales in comparison. I am not talking about coffee served in fine-dining outlets but those served by typical cafe or deli-style eateries. Having said that, not all coffee are created equal. Ultimately the type of coffee bean used as well as the barista make a very important difference.
I was lucky that the cafe besides one of the hotels I stayed in served excellent coffee. Just thinking about it starts my craving for coffee, which neither NESCAFE or STARBUCKS could satisfy.
Cafe Nine On Ultimo
serves such good coffee that I ended up having most of my breakfasts there. Each time, I ended up having their A$5 daily breakfast set of 1 coffee and 1 muffin/bread/pastry/cookie.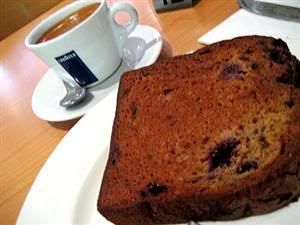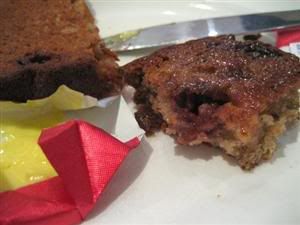 Long Black and Toasted Raspberry & Pear Bread served with butter & jam. Looks black because it is toasted. Their Banana Bread was very good as well. I enjoyed it toasted.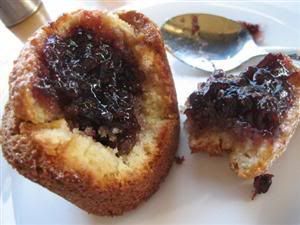 Yummy Friand with Fruit Jam Filling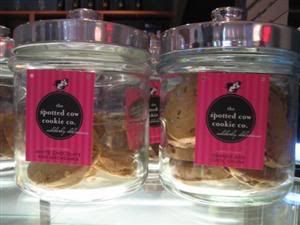 Giant Orange & Chocolate Chunk Cookie by Spotted Cow Cookies Co. If you like Jaffa, you will LOVE THIS! The barista is highly-talented and quite a "looker" too. *grin*
And the highlights were the coffees, of course!
They were as good as they look, if not better.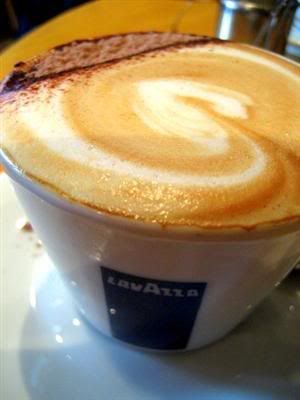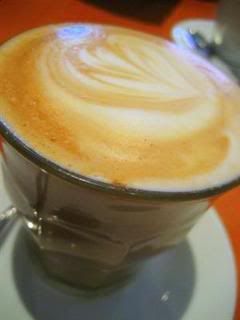 Skinny Latte, Skinny Cappucino, Long Black.